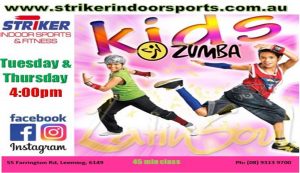 Zumba Kids – 4 to 10 years age. This 45 minute fun functional children's exercise class runs from 4pm Tuesday's and Thursday's.
Cost – $10 per session or buy a block of 10 Visit Passes for $90.00. Please make sure you purchase your tickets from the front desk prior to the class starting.
Coffee is available from the kiosk.
Parents are required to stay in the centre for the full duration of the class (45 minutes).