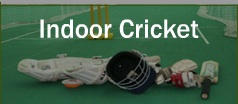 Indoor cricket is currently being played on Tuesday and Wednesday nights 8-a-side and Thursday nights 6-a-side. State of the art facility with features not seen in WA before. Register online at Striker Indoor Sports and Fitness, as nominations are filling up quickly.
[vsw id="Ognlp1LQgaE" source="youtube" width="525″ height="444″ autoplay="yes"]
NOTE: Junior Cricket competitions starting 1st week of term 2.
Indoor Cricket is a dynamic sport played all year round for seniors, and over terms 2 and 3 for juniors, and is ideal for anyone wanting a competitive and athletic challenge. A game for cricketers and novices alike!
Indoor cricket is fast paced – with the close proximity of fielders, run-outs are very common, and fielding is one of the features of the game, both from a player's perspective and a spectator's. The game is therefore always active, and it is rare for there not to be either a score or wicket on each and every ball bowled.
Call 9313 9700 for any queries.
About Indoor Cricket
Indoor cricket at Striker Indoor Sports and Fitness Centre is played on a rectangular, artificial-grass surfaced court. The court is enclosed in tightly tensioned netting, including a 4 metre high 'ceiling'. The pitch and stumps are exactly the same dimensions as outdoor cricket.
8-a-side games consist of two innings. Each innings lasts for 16 overs. With 8 players per side, this means each and every fielder bowls 2 overs, and each batting partnership face 4 overs. 6-a-side games have 18 overs, with each player bowling 3 overs each, and each batting partnership facing 6 overs. And with the compact size of the court, no player can be banished too far away on the boundary, as some of us have experienced in outdoor cricket. In indoor cricket, everyone is close enough to regularly be involved in the game.
One of the many positive aspects of the game, is its suitability for children (and adults new to any form of cricket). The ball is softer than a regular outdoor cricket ball, everyone is involved to the same degree (regardless of ability), and you don't have to be super fit (no running a hundred yards to collect a ball from near the boundary, and having to throw it from the same distance). And you don't have to be able to hit the ball a hundred yards to be a regular and effective batsman. Game times are 6pm, 7:10pm, 8:20pm and 9:30pm.