Indoor Netball
To register your team or to join a team for the next Indoor Netball competition, please click on the link below
If you have any queries in regards to the netball competitions, please call 9313 9700.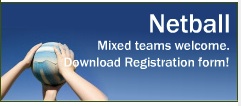 Join us in our next netball competition.
Nights, Grades & Cost:
Nights Played: Monday Netted mixed and ladies, and Thursday nights Open Court ladies and Netted Mixed
Grades: Thursday Open Court A / B / C Grade
Cost: $70.00 game fee, with a one off registration fee of $70.00
Times: Game times start at 6:10pm, and run every 40 minutes, with the last game time of 9:30pm if competition is
full

ATTENTION ALL PATRONS
We would like to start off by saying thank you to all our valued customers for your support and understanding during this difficult time.
As per the governments release last night, here at striker indoor sports we are having to close our doors indefinitely until further information is released.
We will endeavour to keep you all updated as often as possible as to when we will be able to open our doors and services again.
This will take effect immediately!!!
Again we thank you all for the support shown and we look forward to re-opening in the future and seeing all your familiar faces again.
Stay Safe Ownership & Management