Indoor Netball
To register your team or to join a team for the next Indoor Netball competition, please click on the link below
If you have any queries in regards to the netball competitions, please call 9313 9700.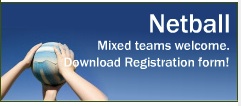 Join us in our next netball competition.
Nights, Grades & Cost:
Nights Played: Monday Netted mixed and ladies, and Thursday nights Open Court ladies and Netted Mixed
Grades: Thursday Open Court A / B / C Grade
Cost: $70.00 game fee, with a one off registration fee of $70.00
Times: Game times start at 6:10pm, and run every 40 minutes, with the last game time of 9:30pm if competition is
full

ATTENTION ALL PATRONS
We would like to start off by saying thank you to all our valued customers for your support and understanding during this difficult time.
We have opened up a limited group fitness timetable, bookings via Ph:93139700 are essential as spots are limited
Squash court training bookings are available in a limited capacity Monday to Thursday 7:00am to 7:30pm, Friday 5:30am to 3:30pm and Saturday 8am to 12noon. Not available any other times at this stage of restrictions. You must book ahead via Ph:93139700
As of Monday 8th June we are aiming to have our social sports, gym and other activities restarting.