Indoor Netball
To register your team or to join a team for the next Indoor Netball competition, please click on the link below
If you have any queries in regards to the netball competitions, please call 9313 9700.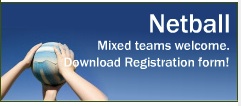 Join us in our next netball competition.
NOTE: Junior netball to start on Thursday afternoons – starting 1st week of term 4.
Nights, Grades & Cost:
Nights Played: Monday Netted mixed and ladies, and Thursday nights Open Court ladies and Netted Mixed
Grades: Thursday Open Court A / B / C Grade
Cost: $70 game fee.

CURRENT NEWS
Inflatable World open every Saturday 10am-5pm!
Our Group Fitness timetable has over 50 classes, at different times of the day, to suit your individual needs. Come in and give it a try.