Indoor Netball
To register your team or to join a team for the next Indoor Netball competition, please click on the link below
If you have any queries in regards to the netball competitions, please call 9313 9700.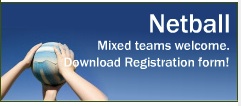 Join us in our next netball competition.
Nights, Grades & Cost:
Nights Played: Monday Netted mixed and ladies, and Thursday nights Open Court ladies and Netted Mixed
Grades: Thursday Open Court A / B / C Grade
Cost: $70.00 game fee, with a one off registration fee of $70.00
Times: Game times start at 6:10pm, and run every 40 minutes, with the last game time of 9:30pm if competition is
full

 Due to Government Covid restrictions, Striker will be closed Saturday 24th April through to Friday 30th April. We hope to be open again from Saturday 1st May if all goes well.
Group Fitness membership is as simple as $28.80 per fortnight