Circuit Training
You can choose from the following Circuit Training Classes at Striker Indoor Sports and Fitness Leeming.
R.E.C. (Resistance Endurance Circuit).
This is a cardio/strength combination class that alternates strength training exercises with cardio training to sculpt every major muscle group.  R.E.C. classes combine intervals of cardio drills and muscle conditioning exercises to give you the ultimate workout.  You can burn 400-600 calories in a variety of classes that may use jump ropes, boxing drills, free weights and even a little healthy competition.
Expect the unexpected in these full-body classes, which are packed with lots of variety and tons of fun.  This strength class consists of our functional resistance exercises usig hand weights to guarantee you'll burn calories while giving your muscles a great workout.  It will present a challenge for even an experienced athlete.
Lite R.E.C. (LITE Resistance Endurance Circuit)
This is a lighter pace of the R.E.C. class and is aimed at our more senior participant or those returning to exercise after an injury or operation, childberth or just new to exercise.  Lite Resistance Endurance Circuit is a cardio/strength combination class that alternates strength training exercises to maintain strong and healthy bones with light cardio training to help maintain a healthy heart.
Classes also consist of functional resistance exercises using hand weights whilst utilising the stability ball and is guaranteed to help improve balance and co-ordination.
Zumba Circuit
This interval training class consists of exciting dance rhythms of a Zumba class combined with strength/weight conditioning equipment proves a complete, fun and effective workout.
Zumba in the circuit is perfect for those who enjoy the intoxicating rhythms of South America and want to get fit while toning the whole body.  It's not a dance class but you will learn different movements like salsa, meringue, samba and more.
It caters for all fitness levels…this class is HOT HOT HOT!!  Come and shake your maracas!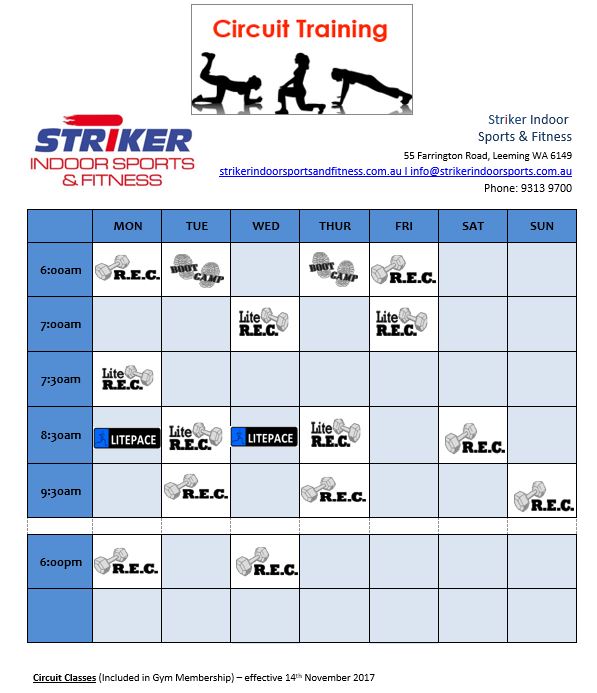 ATTENTION ALL PATRONS
We would like to start off by saying thank you to all our valued customers for your support and understanding during this difficult time.
We have opened up a limited group fitness timetable, bookings via Ph:93139700 are essential as spots are limited
Squash court training bookings are available in a limited capacity Monday to Thursday 7:00am to 7:30pm, Friday 5:30am to 3:30pm and Saturday 8am to 12noon. Not available any other times at this stage of restrictions. You must book ahead via Ph:93139700
As of Monday 8th June we are aiming to have our social sports, gym and other activities restarting.