Zumba Kids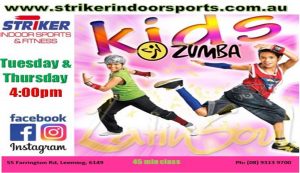 Zumba Kids – 4 to 10 years age. This 45 minute fun functional children's exercise class runs from 4pm Tuesday's and Thursday's.
Cost – $10 per session or buy a block of 10 Visit Passes for $90.00. Please make sure you purchase your tickets from the front desk prior to the class starting.
Coffee is available from the kiosk.
Parents are required to stay in the centre for the full duration of the class (45 minutes).

ATTENTION ALL PATRONS
We would like to start off by saying thank you to all our valued customers for your support and understanding during this difficult time.
We have opened up a limited group fitness timetable, bookings via Ph:93139700 are essential as spots are limited
Squash court training bookings are available in a limited capacity Monday to Thursday 7:00am to 7:30pm, Friday 5:30am to 3:30pm and Saturday 8am to 12noon. Not available any other times at this stage of restrictions. You must book ahead via Ph:93139700
As of Monday 8th June we are aiming to have our social sports, gym and other activities restarting.