Zumba Kids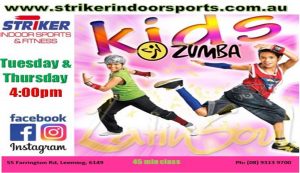 Zumba Kids – 4 to 10 years age. This 45 minute fun functional children's exercise class runs from 4pm Tuesday's and Thursday's.
Cost – $10 per session or buy a block of 10 Visit Passes for $90.00. Please make sure you purchase your tickets from the front desk prior to the class starting.
Coffee is available from the kiosk.
Parents are required to stay in the centre for the full duration of the class (45 minutes).

ATTENTION ALL PATRONS
We would like to start off by saying thank you to all our valued customers for your support and understanding during this difficult time.
As per the governments release last night, here at striker indoor sports we are having to close our doors indefinitely until further information is released.
We will endeavour to keep you all updated as often as possible as to when we will be able to open our doors and services again.
This will take effect immediately!!!
Again we thank you all for the support shown and we look forward to re-opening in the future and seeing all your familiar faces again.
Stay Safe Ownership & Management